BRICK MAKING MACHINE IN MIRZAPUR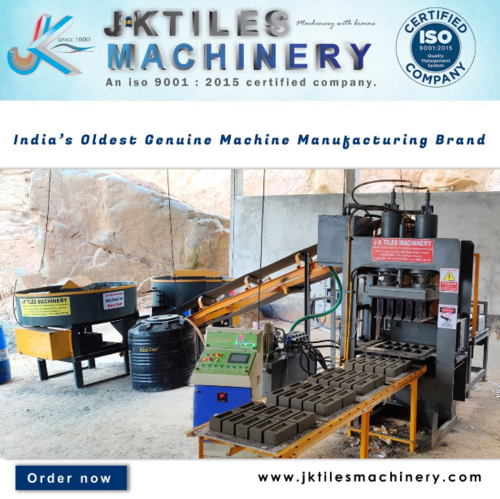 BRICK MAKING MACHINE IN MIRZAPUR
Product Description
J. K.
Tiles Machinery's Fully Automatic, Semi auo & manual Hydraulic Mahines for manufacturing paver blocks(Coulourfull and without colour), cement & fly ash bricks, concrete blocks, hollow & solid blocks, kerb stones etc.
Our Hydraulic Machines are driven by two types of technologies based on production output of the machine, specification, product to be manufactured, facilities etc. as follow:
1). J. K. VIBRO + HYDRO VERTICLE VIBRATION TECH.
Fully automatic Multi Puropose & multi operations Hi speed hydraulic brick, paver blocks(Coloured & non coloured), concrete block, hollow & solid block, kerb stone etc.
Frequency Conversional Control Technology FCCT Used for
Automatic Block Making Machine utilize the frequency conversion Control technology, Keeping the precise and parallel movement between tamper and mould and avoiding its deformation.

Products : JK EVEREST
Series (JK-FAT EVEREST 1800 to 3200 8cvt to 32 Cvt )
2). J. K. DOUBLE CYLINDER + VIBRO HYDRAULIC TECH.
India's First Fully automatic double cylinder Hi Speed & powerful Pressurised system of hydraulic pressure machine
TECH. ADVANTAGE :
This automatic block making machine utilizes double proportional and directional Valves with high activity to regulate the oil flow and pressure automatically.
Powerfull pressure system provides upto 320 tonnage (Depending on the model).
Perfect Impression on each brick, pavers with accurate Dimension and size.
product : JK LEGENDER
series (JK-FAT LEGENDER 6 Cvt to 32 Cvt)